The core objective of National Coming Out Week is to provide opportunities and environments through planned programs that will allow educational dialogue and critical thinking to occur. The intent of these programs is to target awareness of current societal norms and how they impact the LGBTQ community. NCOW further provides visibility and ally development for members of the Temple community that welcomes a safe space for members of the LGBTQ community. Lastly, NCOW serves as an outlet of providing notable resources to students, staff, and faculty members. The ultimate goal of this committee is to continuously enhance the LGBTQ campus climate by providing a positive experience.
Striving to achieve the greater interest of the Lesbian, Gay, Bisexual, Transgender, Queer, Intersex and Asexual (LGBTQIA+) community here at Temple University, the National Coming Out Week planning committee serves as an advocate group through planning social and educational programs. The NCOW committee works to accomplish goals of Temple's diverse student, staff, and faculty population while creating a more integrated atmosphere for discussions pertaining to the LGBTQIA+ community.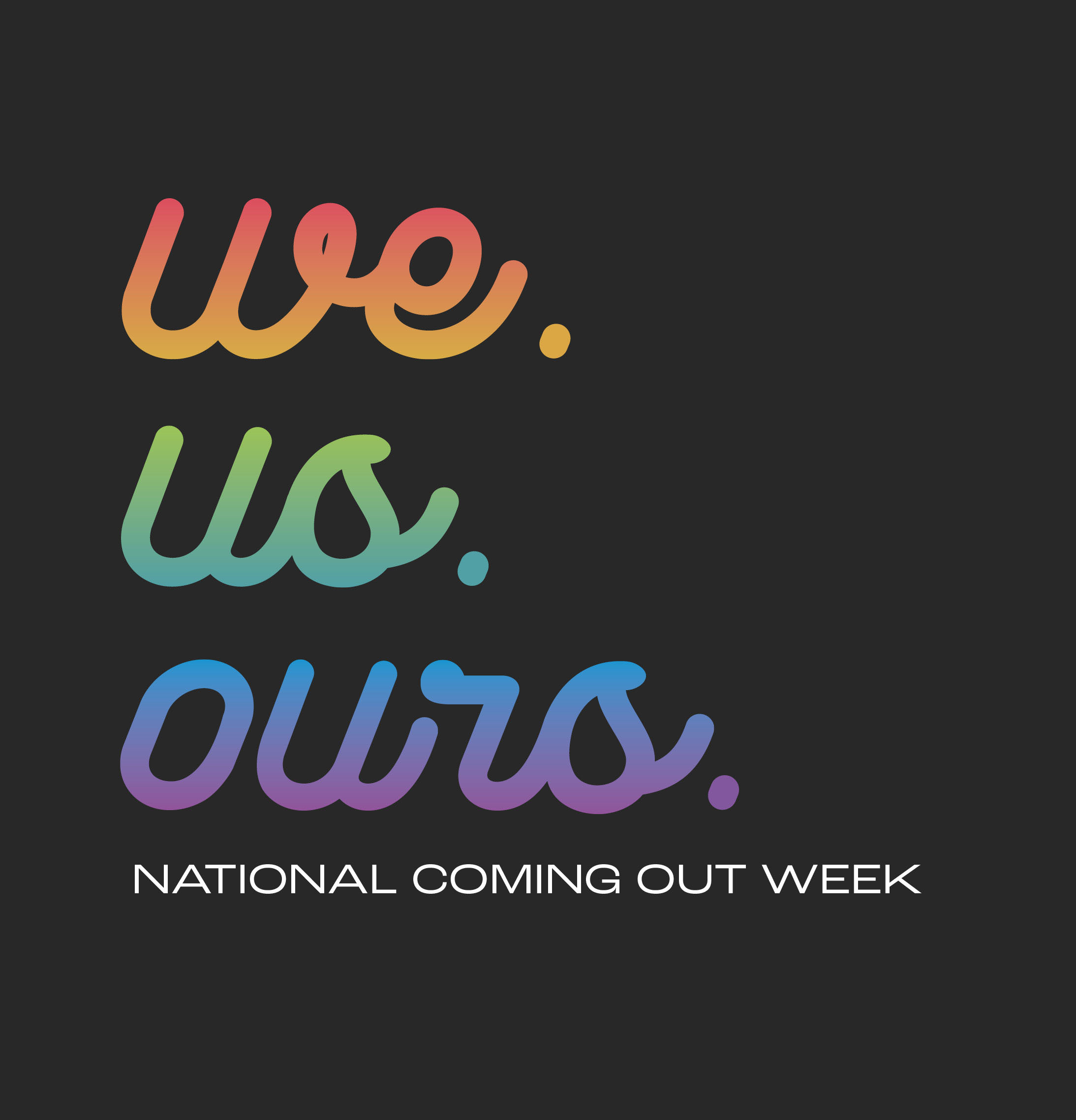 NCOW 2021 Theme
National Coming Out Week (NCOW) is back on campus! Institutional Diversity is excited to release the 2021 theme, WE.US.OURS. This theme is all about highlighting shared experiences, transparency, and authenticity. Stay tuned as we announce the lineup! We'll have lots of giveaways including our signature NCOW t-shirts and other swag so save the dates!
Our 2021 NCOW T-shirt is here and we are excited! Come out to events for opportunities to grab one! See you there!
We are kicking off NCOW with NCOWFest and Speak Out. Come join us and explore campus and community resources that support gender and sexuality identities.
We are excited to announce George M. Johnson, award-winning author of "All Boys Aren't Blue" and "We Are Not Broken" as the speaker at our featured conversation entitled "Truth & Power Into Queer Identity"!
We all get that in order to climb the professional ladder you need a good foundation. Come join us at Queer Connect to get resources and advice from LGBTQIA+ professionals while learning how to advocate for inclusivity in the workplace.
We are excited to end our week with a vivacious, entertaining and informed night as we introduce our 2021 drag community. This event ALWAYS gives what it's supposed to and brings all the 'work it hunty' vibes.
Double row carousel (default)